PACKAGING LICENSE PROVIDER​
Find here all relevant packaging license providers at a glance.
THE PACKAGING LICENSE PROVIDERS​
Post contains advertising links: The providers of packaging licenses in Germany mainly include the dual systems. These are the companies that organize the recycling of household waste. In addition, there are brokers or third-party providers. These companies can also be licensed in accordance with the German Packaging Act. However, since they are not operators of dual systems themselves, they have to register the packaging quantities licensed from them with a dual system. We have also included the contractual partners of the brokers in our list.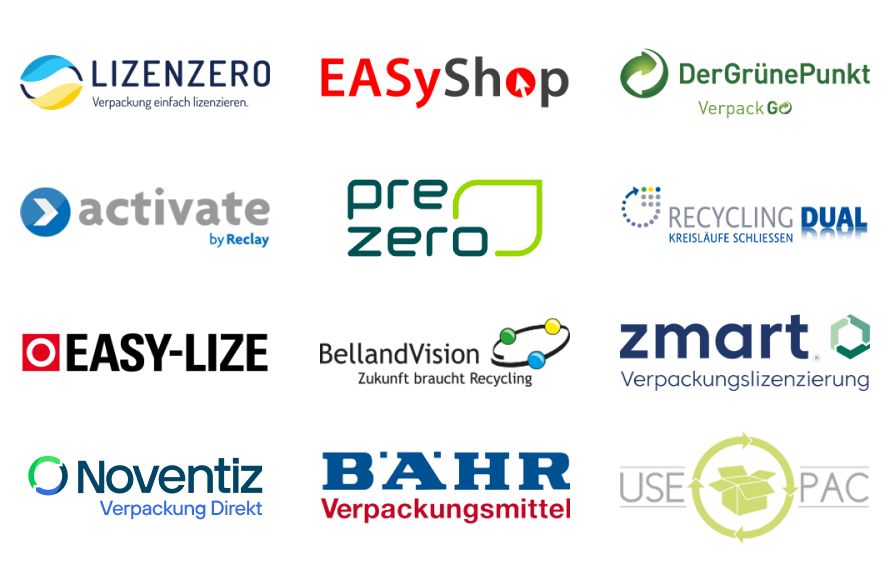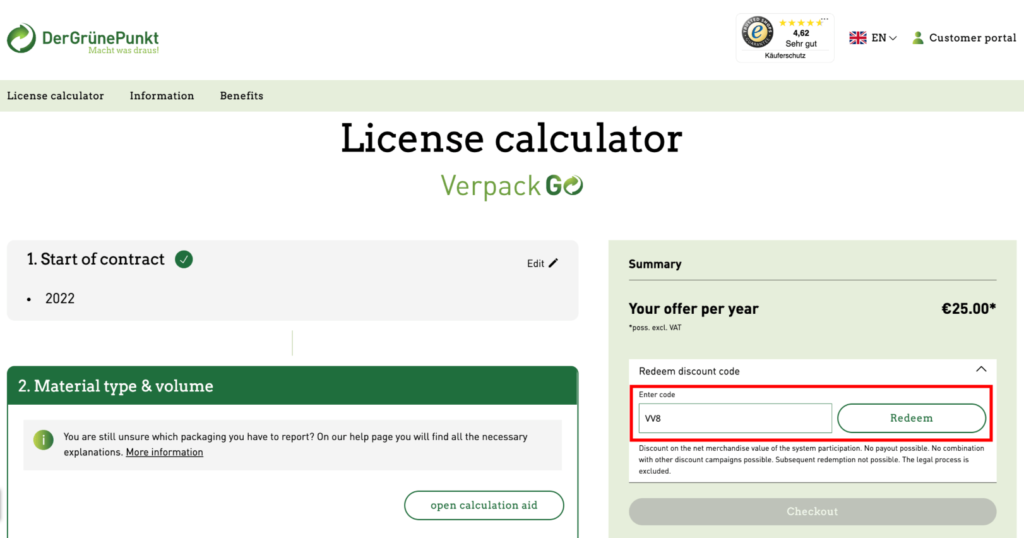 The Grüner Punkt packaging license shop impresses with its simple and very intuitive handling. Together with the many years of experience and really low prices, the Grüner Punkt offers an excellent solution for the topic of packaging licensing.
Partner Offer¹: 8% discount with coupon code: VV8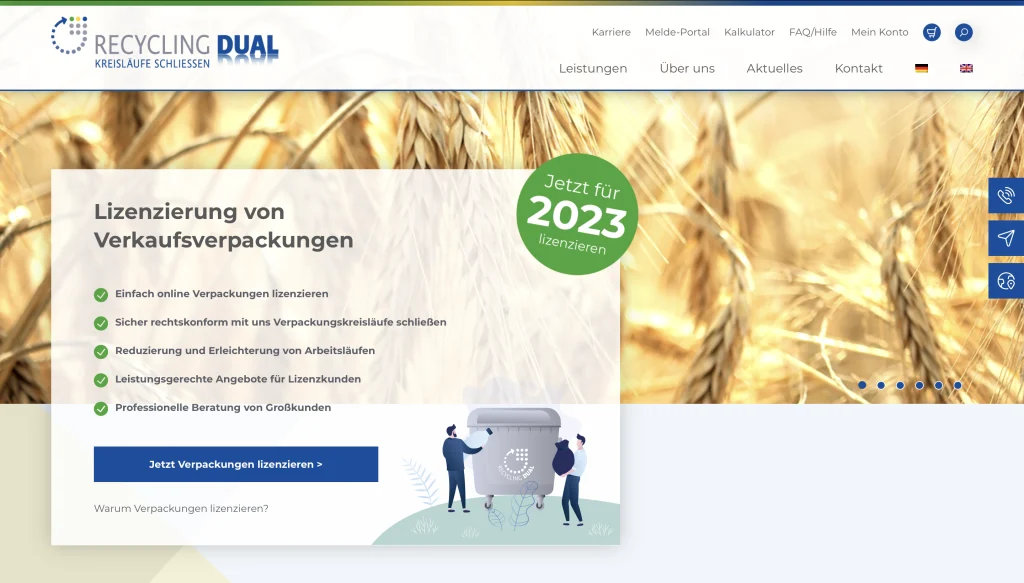 Recycling Dual's packaging license is a very good decision for all online retailers and manufacturers who need to license mostly paper and plastic. This is where Recycling Dual offers very competitive prices!
In addition, you receive 10% discount on all packaging materials at Smurfit Kappa and with our exclusive coupon DUAL6 you get another 6% discount on the license costs in addition.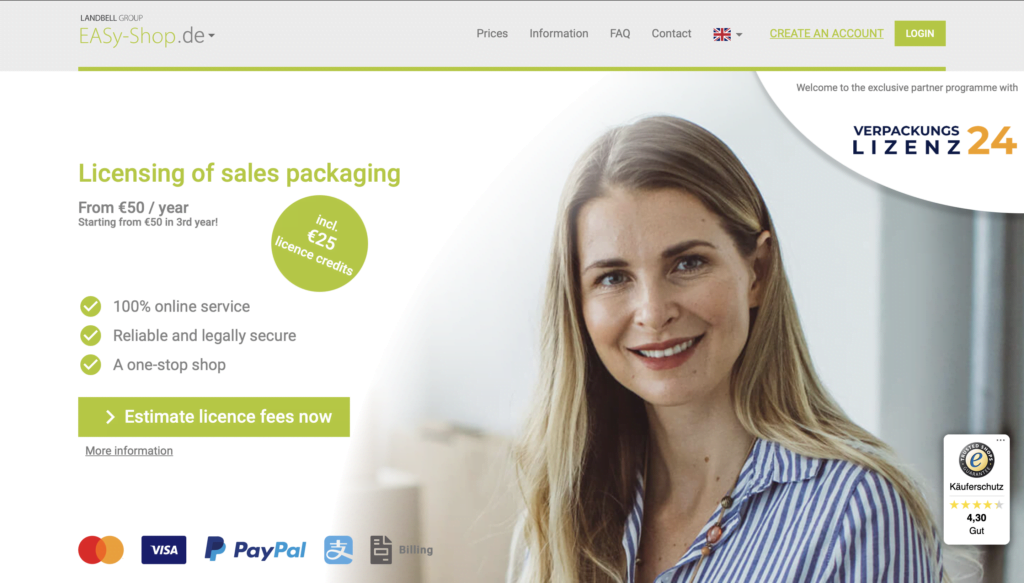 Landbell's EASyShop includes all the features you need to manage your packaging licence online. In addition to comprehensive international compliance services, Landbell offers a strong solution for packaging licensing. The customer-friendly pricing benefits all manufacturers who have packaging volumes that are difficult to plan or fluctuate. Internationally active manufacturers and retailers, in particular, can benefit from the special offers for the EPR info service for Europe-wide packaging licensing.
*If a contract is concluded with a provider via a marked partner link, we receive a commission. This does not increase the license price from the respective provider and there are no additional costs.

1Discount on the net value of goods. No payment possible. One voucher can be redeemed per order and customer. No combination with other discount campaigns possible. Subsequent redemption not possible. The legal process is excluded.
*If a contract is concluded with a provider via a marked partner link, we receive a commission. This does not increase the license price from the respective provider and there are no additional costs.
All providers, all prices – compare now and find the best offer for your packaging quantities
Brokers / Third Party Providers
Bähr Verpackung (contract with the dual system Zentek)
Susa-Solutions GmbH (Contract with the dual system Reclay)
Usepac
Packaging license providers: how do they differ?
The license itself is the same for all providers. It makes no difference from which of the above companies the packaging license is purchased. The Central Office accepts them all. The packaging license providers differ above all in the price, the contract period and reimbursements. We have summarized a clear comparison on our price comparison page.
Cheap and expensive minimum prices
Many providers charge basic fees or minimum sales for the annual contract. These costs are quantity-independent, i.e. they are incurred for each contract. Especially with small packaging quantities, these basic costs are particularly important. An example: The company EKO-PUNKT requires a minimum turnover of €100 for the annual contract. This form of contract is not worthwhile for small quantities. If you really only have small amounts of packaging material per year, you should choose a provider with low basic costs.
Different contract periods
As a rule, the dual systems offer annual contracts. However, some packaging license providers prescribe a minimum contract period of 2 years. Landbell is currently the only provider with this long term. Especially if there is uncertainty about whether and how long the business will be continued, you should choose a provider with whom the contract can be terminated annually. An exception is Reclay. No annual contract is concluded here, but only individual licensing for the ordered quantities. With Reclay, the license is not automatically renewed and there is no notice period to be observed.
Some providers offer refunds
In addition to the term and price, subsequent reimbursement is also an important part of the contract. Young companies in particular, small Ebay or Amazon dealers are often not yet able to plan their sales precisely. This makes it difficult for them to estimate the packaging quantity. If there is still uncertainty as to whether the reported quantity of packaging will actually be sold, a provider should be chosen who reimburses costs already paid. Lizenzero, Veolia, Der Grüne Punkt and PreZero Dual are currently offering refunds. However, the extent of the refund and conditions attached to the refund differ. We compared the conditions of the individual providers:
Veolia: full reimbursement for royalties in excess of minimum sales. The reimbursement will be paid out with the annual statement as a credit note and is due for payment within 14 days. (Source: AGB Veolia Umweltservice Dual GmbH)
Lizenzero: The provider grants adjustments to the current license quantities for the current license year during the year. If the adjustment during the year is made by August 31st, quantity reductions will be reimbursed directly. (Source: Lizenzero sample contract)
Grüner Punkt: The provider grants refunds. These are determined in the year-end volume report. If the finally reported quantities per material type fall below the previously announced forecast quantities, a refund will be paid up to a shortfall of 10%. Customers have the opportunity to change their forecast quantities until August 31st. of the current year for the current license year can be changed free of charge. (Source: Der Grüne Punkt – Duales System Deutschland GmbH AGB)
PreZero Dual: Reimbursements of overreported quantities are possible in principle. The provider attaches the following 2 conditions to a refund:

The annual turnover is at least €5,000 net.
The volume reduction will take place until August 31st. of the current license year.
Package deals: often a bad choice
Some providers have fixed package deals in addition to the license for individual quantities. They offer a license for certain combinations of packaging material. These deals are often advertised as "starter deals" that allow small retailers and manufacturers in particular to get a packaging license cheaply. However, you very often get cheaper offers from other suppliers for the packaging quantities from these deals. Another disadvantage of these deals is that the packaging quantities cannot be easily adjusted. If there are more or less packaging quantities, it is difficult to adjust the fixed deal quantities. This results in high costs afterwards if changes to the quantities are necessary.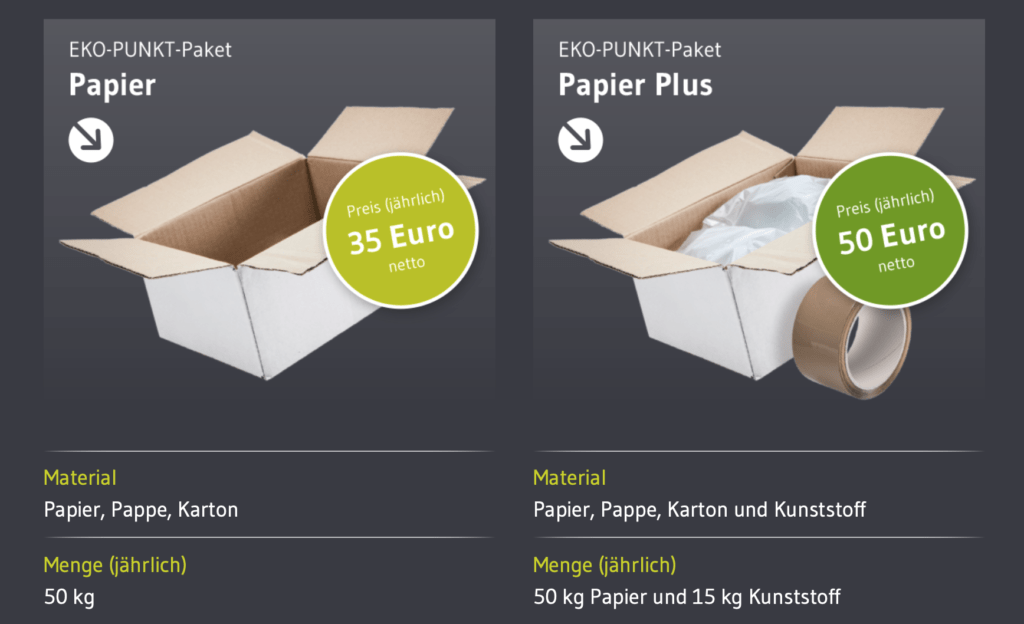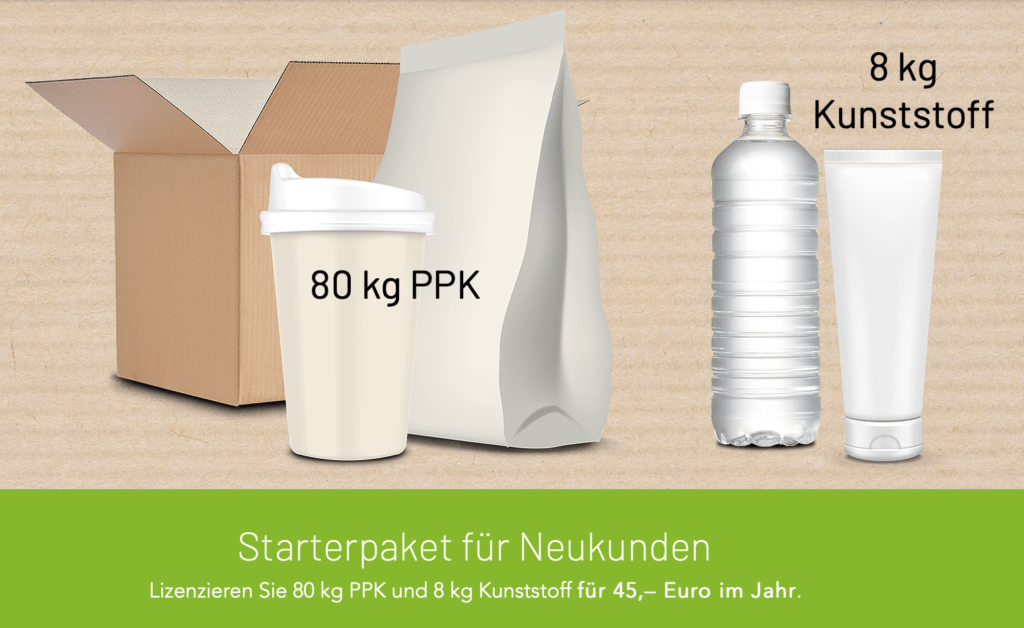 We therefore recommend concluding a license agreement with individually selected quantities, even for small quantities. To find the best packaging license provider, you can use our simple comparison calculator. Our calculator compares the prices and contract conditions of all providers. So you can quickly find the best offer for your personal needs.
Start the comparison of all dual systems by typing in the quantities of packaging materials that you ship to Germany. You will then see the prices and all terms and conditions for all providers.
ALL PROVIDERS AT A GLANCE​
Here we have clearly summarized the current contract conditions of all providers. The prices are always the minimum price for the smallest reported quantity. To find out the prices for your individual quantities, simply enter your expected annual quantity in the calculator and start the exact price comparison!
All providers, all prices – compare now and find the best offer for your packaging quantities
Price for you quantities

25,00 €

incl. 8% discount with our voucher VV8 1

Contract details

1 year minimum term
3 months notice period

Flexibility

yes, until 31.08. - payment at the end of the year

Additional features

online label
CO2-certificate included
calculation tool
fast LUCID data reporting
use of brand "Grüner Punkt"
free tool to determine recycling capabilities for packagings


Der Grüne Punkt (Green Dot) is the market leader when it comes to licensing packaging. The brand enjoys a high level of recognition internationally and stands for responsible recycling like no other symbol. The license fee already includes the rights to use the Grüner Punkt brand. By printing Grüner Punkt on your packaging, you effectively signal to your customers that you are taking recycling seriously.

Customers of Grüner Punkt / VerpackGo can also use RecyclingCOMPASS - a tool for determining the recyclability of packaging - free of charge.

As an exclusive benefit, customers receive an 8% discount on license costs when signing a contract with our coupon code VV8. The 8% discount applies to both the current and all future license years. The discount applies to all licence fees except for the trademark royalties

Partner offer

Price for you quantities

18,71 €

incl. 6% discount with our voucher DUAL6 1

Contract details

1 year minimum term
3 months notice period

Flexibility

for customers with >= 10,000€ annual licence fee turnover until 15.08.

Additional features

online label
fast LUCID data reporting
calculation tool
Special discount: 10% on packaging material


Recycling Dual is the packaging licence provider for Smurfit Kappa, the world's leading manufacturer of packaging materials. Recycling Dual offers a very affordable packaging licence. For online retailers, the provider is the ideal solution: Cheapest prices for PPK on the market and a simple and fast settlement!

Verpackungslizenz24 users benefit even twice:
In addition to an exclusive partner discount of 6% with code DUAL6 on the already low licence prices, there is an additional 10% discount on packaging materials from Smurfit Kappa. You save on the one hand on the packaging licence and on the other hand on the purchase of your packaging.

Recycling Dual and Smurfit Kappa can use the recycled packaging waste to produce new sales and shipping packaging and thus realise a true circular economy. This saves both resources and costs, which the suppliers pass on to their customers!

Kombi-Deal

Price for you quantities

19,95 €

incl. 5% discount with our voucher VERPACK5

Contract details

single order
no cancellation needed

Flexibility

prepaid model with early bird discounts


No minimum order value and low system costs: Reclay offers the packaging licence starting from 6,00€!

Reclay's pricing model is particularly tailored for small vendors or e-commerce retailers who only have small quantities of packaging material to declare in Germany. Like a pre-paid mobile phone, Reclay does not have contracts with a minimum term that are automatically amended. Customers just buy what they need without any future obligations. The earlier customers buy their licence, the more discounts they get. By declaring the quantities in Q1 or earlier, customers can save 25% of the regular costs.

With our discount voucher VERPACK5, you can save an additional 5% on top. Just click on redeem in the calculator on the Reclay homepage.

Partner offer

Price for you quantities

35,88 €

incl. 8% discount with our voucher VGL8 1

Contract details

1 year minimum term
3 months notice period

Flexibility

yes, until 31.08. with immediate refund payment

Additional features

online label
CO2-certificate included
calculation tool
fast LUCID data reporting
partner program
10% discount on all compliance guides for EU-wide licensing of packagings


Lizenzero offers its customers a wide range of additional services that are included in the licence contract.

Lizenzero users have access to tools that allow them to quickly calculate their packaging quantities and also report them to the official LUCID system with just a few clicks, which saves time and effort. Every customer receives an online label and a CO2-certificate that attests how many resources and CO2 could have been saved by recycling the individual packaging quantities of the customer. The CO2-certificate is issued using a methodology by the renowned Fraunhofer Institute.

With an extended customer support for all questions regarding the German Packaging Act (also in Chinese language), a fair refund policy and additional offers by partners and other environmental service divisions of the company, Lizenzero offers a great price-performance ratio.

Partner offer

Price for you quantities

23,90 €

Contract details

1 year minimum term
3 months notice period

Additional features

free tool to determine recycling capabilities for packagings
CO2-certificate included
calculation tool
Assitance with packaging design for higher recyclability

Price for you quantities

50,00 €

incl. 25€ partner discount

Contract details

2 years minimum term
6 months notice period

Flexibility

payment for license fees at end of year

Additional features

online label
CO2-certificate included
EPR info service for +130 countries
free tool to determine recycling capabilities for packagings


Landbell's EASyShop offers producers and merchants a simple and fast way to acquire the packaging license for Germany. Landbell's customers benefit from the extensive know-how of the internationally active environmental service provider. Landbell is thus the ideal partner for companies that have to comply with a wide range of national and international environmental regulations (EPR).

Whether WEEE, packaging law, battery law and more: Landbell offers customers an overview of local laws and how to comply with them in a legally compliant manner with structured reports. This saves time and costs.

Verpackungslizenz24 users benefit from our exclusive partner offer. Optionally, Landbell Regulatory Tracking packages for packaging laws can be purchased at special conditions:
- "3-country package": only 49,90€ for 3 European countries of your choice (EU + UK, CH, NO).
- "Europe Package": only 299,90€ for all EU member states + Norway, Switzerland and UK

Partner-Deal

Price for you quantities

28,89 €

Contract details

1 year minimum term
4 months notice period

Price for you quantities

49,00 €

Contract details

1 year minimum term
3 months notice period

Additional features

online label
CO2-certificate from 15.000kg packaging

Price for you quantities

79,00 €

Contract details

1 year minimum term
3 months notice period

Flexibility

for customers with >= 5,000€ annual licence fee turnover until 15.08.

Additional features

free tool to determine recycling capabilities for packagings
Assitance with packaging design for higher recyclability

Price for you quantities

55,00 €

Contract details

1 year minimum term
3 months notice period

Additional features

35€ discount on licence for all packaging material orders >350€

Info: contract with Zentek

Price for you quantities

na €

Contract details

1 year minimum term
3 months notice period

Additional features

no additional features

Info: contract with Veolia