The European Packaging Waste Directive
The German Packaging Act of 2019 should meanwhile be familiar to all producers and dealers of goods. Registration with the ZSVR, reporting and licensing of annual packaging quantities with a dual system – for most (online) retailers and manufacturers it is clear what needs to be done in Germany to prevent warnings and penalties.
At the European level, the EU Packaging Directive stipulates how EU members must hold manufacturers and retailers responsible.
But what specifically applies to the other EU countries?
What do online retailers or German exporters who send goods to customers in other EU countries have to consider?
We explain the packaging requirements in all EU countries and tell you what to look out for in order to avoid high fines or sales bans.
Different implementations of the packaging directive in the various countries make things difficult
Even if the EU directive on packaging sets the framework, many EU countries implement this differently in their national legislation. Different deadlines for reports to authorities, different definitions of packaging and material, language hurdles and, time and again, small national peculiarities make a fast, legally compliant reporting of packaging quantities a huge administrative task for small and medium-sized companies. The costs of legally compliant participation in dual systems in the EU member states also vary greatly from country to country. And because quantity reports and system participation take place annually, a large part of the effort starts anew every year.
Whether international online retailer, medium-sized industrial company with customers all over Europe or exporter: The EU packaging directive does not make it easy for all of them to comply with. In order to avoid warnings and high fines, we have written a small guide on how affected companies can still meet their obligations from the packaging ordinance throughout the EU with little effort.
These obligations apply in the EU countries
With our interactive map, you can quickly get an initial overview of the countries in which you are required by local law to license the packaging. Simply select a country to which you want to send products with packaging and see what needs to be considered.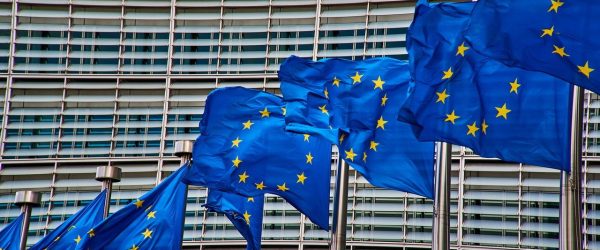 Click a country on the map to learn more about its specific regulations regarding the European Packaging and Packaging Waste Directive. You will get information about what actions producers need to take in order to comply with the local laws.
The quick solution: EU-wide packaging license
When researching which obligations in terms of the packaging law apply to which country and how this obligation is then to be fulfilled in accordance with the law, we first realized how time consuming it is. Therefore, we would like to introduce you to two providers who provide intelligent action guidelines for each individual EU country on their digital platforms at a very good price-performance ratio.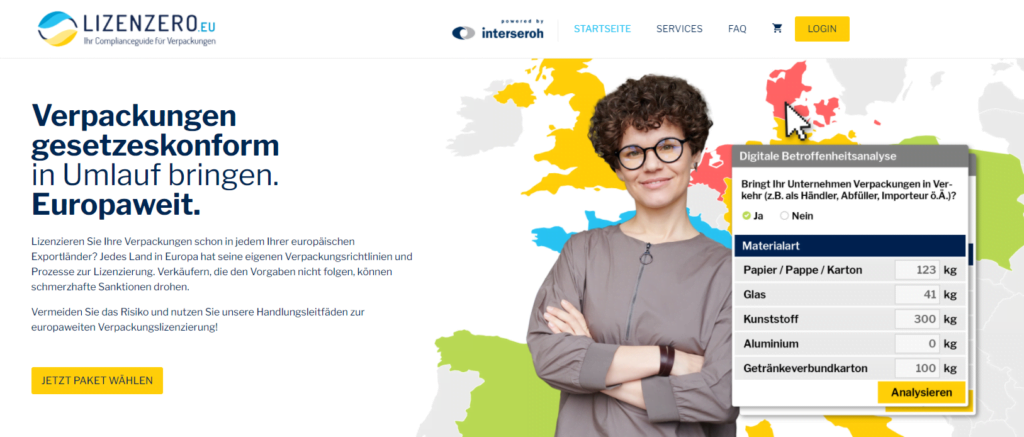 Lizenzero.EU is simple, completely digital, time-saving and helps you with EU-wide compliance in terms of packaging law. No contract term and no subscription model.
Partner offer¹: 10% discount
with discount code: VGL10

Ecosistant is fast, agile, multilingual, and with the low-cost subscription model you always stay up to date on EU-wide packaging licensing and never miss a change in the law.
Partner offer: 10% discount
with discount code: vpcksvgl10
¹Valid until December 31, 2021. Discount on the net value of the goods. No payout possible. One voucher can be redeemed per order and customer. No combination with other discount campaigns possible. Subsequent redemption not possible. The judges' decision is final.
*If a contract is concluded with a provider via a marked partner link, we receive a commission. This does not increase the license price at the respective provider and there are no additional costs.
Are you an Amazon or eBay merchant selling products in Germany? Then you need to enter your EPR registration number for packaging material in your seller account by 01.07.2022 to continue shipping to Germany! We can show you how to easily get this number.
An overview of EU-wide regulations on packaging guidelines
We have written a brief overview of the local packaging guidelines for the individual EU countries as well as for UK, Norway and Switzerland. This should only serve as an initial assessment of whether you are obliged to work in the respective country. Due to the large number of different legal regulations in the EU member states, we cannot guarantee that the information is 100% up-to-date.
In order to obtain a legally reliable statement on the obligations per country in individual cases and to avoid sanctions or fines, we recommend commissioning a professional provider for EU-wide packaging licensing. With our partners Lizenzero.eu* and Ecosistant* you will receive a tailor-made audit of your obligations according to the EU packaging directive in Europe.
Get straight to the country of interest: