Find the best Solution
to Comply With the
German Packaging Act
You already know that you need a packaging license in Germany? You are looking for a reliable and affordable solution to comply with the packaging act?
Use our free price calculator to compare all providers with a single click. Benefit from exclusive partner discounts and offers.
You are not sure if the VerpackG applies to you and what duties you need to fulfill exactly?
Or do you need an EPR number for your Amazon or eBay accounts? We are glad to help you with all the information you need!
You ship goods not only to Germany but to other European countries as well and you would like to know if you act according to the local law?
No problem! We can provide you with general info on EPR requirements.
Are you an Amazon or eBay merchant selling products in Germany? Then you need to enter your EPR registration number for packaging material in your seller account by 01.07.2022 to continue shipping to Germany! We can show you how to easily get this number.
Are you Affected by the German Packaging Act (VerpackG)?
Contains advertising links: You are a producer, distributor, or e-commerce vendor and sell your packaged goods to the German market?
Are these packaged products meant to be for consumers and are likely to be shipped to private households?
If you can answer both questions with yes, you need to get a packaging license for the packaging materials of your products that you ship to Germany. This is because the German Packaging Act obliges all producers, distributors, or online retailers to pay their share for recycling their packaging materials that end up in German domestic waste. Therefore, you need to declare your yearly packaging quantities (in kg) in Germany and get a packaging license for those quantities.
With Verpackungslizenz24, you can compare the offers for a German packaging license of all dual systems and find the one that suits your individual needs best. This service is completely free of charge for you.
3 Simple Steps to Find the Best Offer for a packaging License
Type your packaging volumes into our price calculator.
Based on your input, you can view and compare the prices and conditions of all providers.
Finally, choose the dual system provider that has the best offer for you.
Start the comparison of all dual systems by typing in the quantities of packaging materials that you ship to Germany. You will then see the prices and all terms and conditions for all providers.
Why You Should Compare Prices
The costs for a packaging license differ quite a lot. In some constellations of packaging materials and volumes, prices can differ more than 300% for a single year! Besides the price, also cancellation policies and periods of notice are different as well. Finally, there are some providers that offer refunds, if the packaging volumes are lower than expected at the end of a year. 
As there is a free choice of the provider, we always advise producers and distributors to check the conditions of more than just one dual system. That's where we can help you with. We have set up Verpackungslizenz24 as a free tool for everyone who is affected by the German Packaging Act, to find a lightweight and easy solution for the packaging license.
The Providers For the License
In general, there are two types of companies where you can get a German packaging license. Either obtain it directly from one of the dual systems that are organizing the collection of packaging waste and recycle them or get it from brokers/agents who are not recycling the materials themselves but commission a recycling business or a dual system for the quantities they provided licenses for. Below, we provide a list of all official providers that are legally entitled to offer packaging licenses.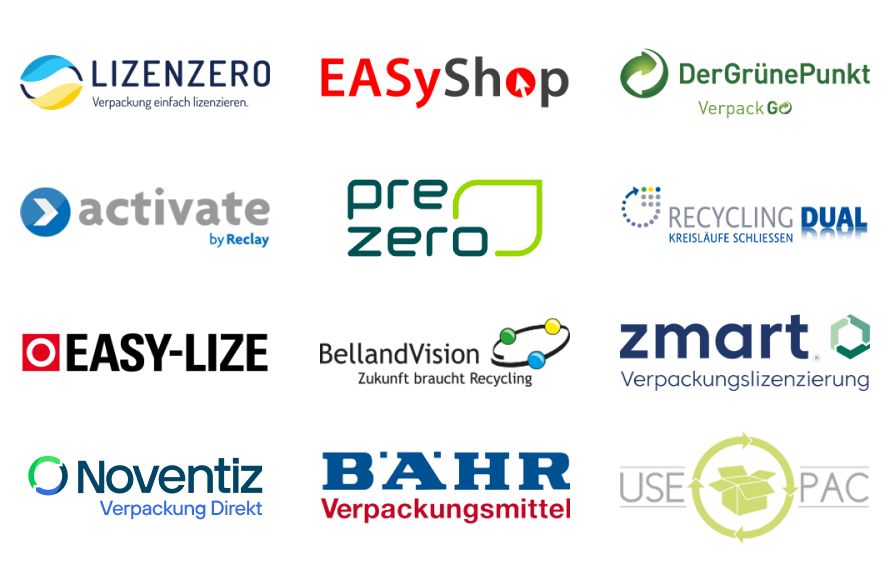 The Grüner Punkt packaging license shop impresses with its simple and very intuitive handling. Together with the many years of experience and really low prices, the Grüner Punkt offers an excellent solution for the topic of packaging licensing.
Partner Offer¹: 8% discount with coupon code: VV8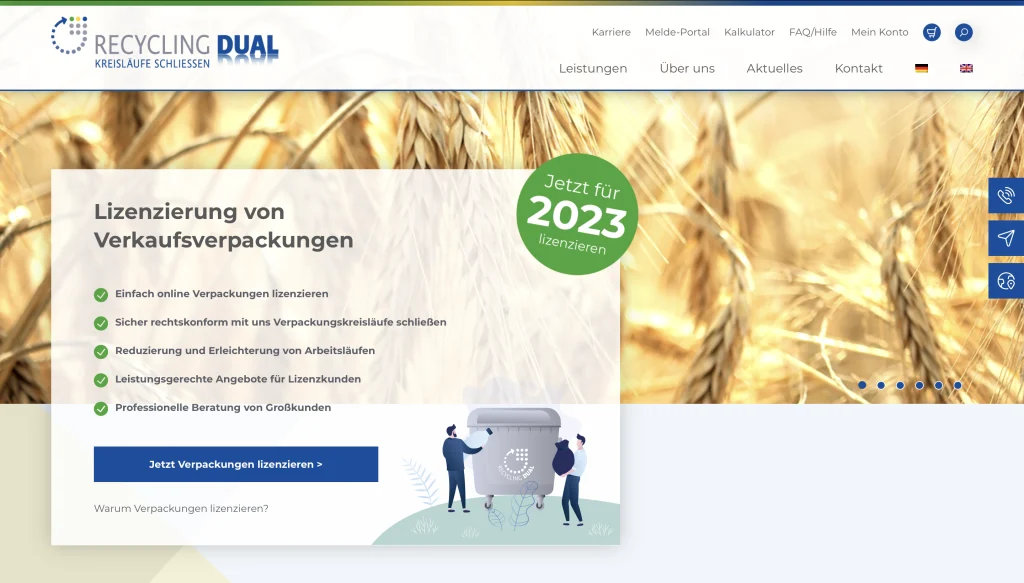 Recycling Dual's packaging license is a very good decision for all online retailers and manufacturers who need to license mostly paper and plastic. This is where Recycling Dual offers very competitive prices!
In addition, you receive 10% discount on all packaging materials at Smurfit Kappa and with our exclusive coupon DUAL6 you get another 6% discount on the license costs in addition.
Agents
Bähr Verpackungen (Contract with Dual System Zentek)
EKO-PUNKT (Contract with Dual System Reclay)
Usepac (Contract with Dual System Veolia)
Susa-Solutions GmbH (Contract with Dual System Reclay)
¹ Discount on the net value of the goods. No payout possible. One voucher can be redeemed per order and customer. Subsequent redemption not possible. The judges' decision is final.
*If a contract is concluded with a provider via a marked partner link, we receive a commission. The license price at the respective provider does not increase and there are no additional costs.
You did not find what you were looking for?
Just send us a message!
If you need further assistance on the German Packaging Act or your packaging license, we are there for you to help. If you want to contact us on social media, you'll find all the information on our contact page.